"When I originally told my husband that we were going he was not too thrilled. I was completely worried but hopeful that he would relax and enjoy himself. Well my prayers were answered because he had a ball and he actually participated. On our ride home he couldn't stop talking about how much he enjoyed himself and how we both were impressed as a whole."
MarriedNTheFamily Improv Workshop Participant

"Improv has made such a positive impact on every aspect of my life – too much to sufficiently relay in an afternoon email. I'm so happy in improv, and thankful to you for taking out the time to host this class. I will definitely be continuing to come to class, and am excited about becoming more and more involved in the improv community."
"The Chuckleheads rock!!! We had such a fun time! I had so much fun laughing with Scott! We haven't laughed like that in a long time (if ever!) You were marvelous! The troupe is great!"
"We thoroughly appreciated the way the group interacted with the audience without making anyone feel uncomfortable. I would definitely recommend the Chuckleheads/ Actors Crib, Inc. to anyone looking to provide some levity in their office or at one of their events."
Conference Services Manager - Law Firm


"There was singing, dancing, acting, falling, crying and every bit of it was just ridiculously funny. Scott and the cast were great, my daughter woke up talking about it so now she wants to become a Chucklehead!"

"Scott Pacitti is a man on a mission! His mission? Scott aims to spread the art of improv theater to the youth all over the North Carolina region. A diligent leader and effervescent personality, Scott brings a wide range of theatrical games and skill to the forefront. "
Middle School Drama Instructor
"Went to the Improv show tonight (for those who don't know it is like the TV show 'Whose Line is it Anyway?'). Love, love, loved it! Cannot wait to go back!"
THE CHUCKLEHEADS: OUR RESIDENT COMEDY TROUPE 
If you haven't experienced an improv event, enjoy this clip from one of our shows. Our troupe will use various forms of improv games, and involve the audience (at their own comfort levels) so it becomes one big, happy playground!
PUBLIC SPEAKING
Tackle your fear and improve your confidence to speak and present in front of a group.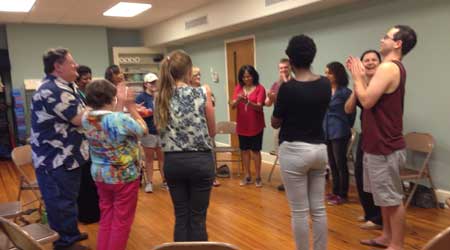 LEADERSHIP
Working as a team helps you understand your role, and to develop your ability to lead.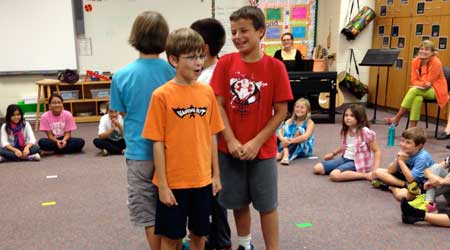 FOCUS
Improved listening and observation skills helps you to be present and more in tune at home and work.