Children and Teen Improv for Education

Out of the Box Edutainment
Improv for education settings uses hands-on activities and exercises so students of all ages benefit from working with each other in unscripted scenarios.
Our Create. Achieve. Program is a fresh take on education and directly follows the Planet Improv mission statement to educate, entertain and affect behavioral change through play, imagination, improvisation and creativity. Many of Planet Improv's activities coincide with the North Carolina Common Core & Essential standards. 
Your students may have no interest in ever stepping foot on stage, but that doesn't bother us! Our goal is to educate and entertain students with relevant messaging and activities inside their comfort level of participation.
Planet Improv's Charlotte education services include various program and session formats to fit your needs:
Entertainment Shows
Hands-on Workshops for Entertainment 
Hands-on Workshops for Education
Learning Labs
After-School Improv Clubs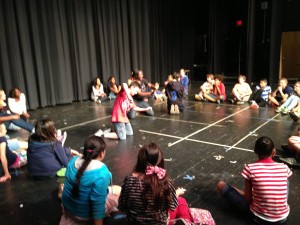 No Two Classes Are Alike

With our Create. Achieve. Program using improv for education, our ability to customize a session or multiple sessions, and multitude of improv related activities that we have built up throughout the years, keeps the program fresh and the kids never experience the same program twice. In these sessions, each child or teen is invited to actively participate in the activities and lessons and many have a different take away from each session.

Our programs are catered to small groups of 10 - 20 students and start with a goal to employ:
Critical thinking and problem-solving skills

Collaboration

Agility and adaptability

Effective oral or written communication

Accessing and analyzing information

Curiosity and imagination
In the Community

Since 2001, we have worked with thousands of children with our improv for education services in conjunction with the Charlotte Mecklenburg School District (CMS) and its After School Enrichment Program (ASEP), the Arts and Science Council and many other educational organizations. During that period we have visited hundreds of schools and worked with thousands of students, sharing the benefits of unscripted improv to improve confidence, public speaking skills, and listening and observation skills.
"When I originally told my husband that we were going he was not too thrilled. I was completely worried but hopeful that he would relax and enjoy himself. Well my prayers were answered because he had a ball and he actually participated. On our ride home he couldn't stop talking about how much he enjoyed himself and how we both were impressed as a whole."
MarriedNTheFamily Improv Workshop Participant

"Improv has made such a positive impact on every aspect of my life – too much to sufficiently relay in an afternoon email. I'm so happy in improv, and thankful to you for taking out the time to host this class. I will definitely be continuing to come to class, and am excited about becoming more and more involved in the improv community."
"The Chuckleheads rock!!! We had such a fun time! I had so much fun laughing with Scott! We haven't laughed like that in a long time (if ever!) You were marvelous! The troupe is great!"
"We thoroughly appreciated the way the group interacted with the audience without making anyone feel uncomfortable. I would definitely recommend the Chuckleheads/ Actors Crib, Inc. to anyone looking to provide some levity in their office or at one of their events."
Conference Services Manager - Law Firm


"There was singing, dancing, acting, falling, crying and every bit of it was just ridiculously funny. Scott and the cast were great, my daughter woke up talking about it so now she wants to become a Chucklehead!"

"Scott Pacitti is a man on a mission! His mission? Scott aims to spread the art of improv theater to the youth all over the North Carolina region. A diligent leader and effervescent personality, Scott brings a wide range of theatrical games and skill to the forefront. "
Middle School Drama Instructor
"Went to the Improv show tonight (for those who don't know it is like the TV show 'Whose Line is it Anyway?'). Love, love, loved it! Cannot wait to go back!"

Sessions last 60-90 minutes on a six, eight or ten week cycle and can act as before, during or after school activities. Our improv for education services are also available for summer camps.
Worried about funding for these programs? With our 501c3 designation, we have funding and grant options to stay in line with your budget needs.