Improv for Business: Corporate and Team Trainings

Change the Way You Do Business
Improvisational activities are great tools for your team's next training or retreat! We take into account the audience and atmosphere, and invite your team to engage and get creative.
Maybe you have new staff and want everyone to get to know each other better.
Maybe you need a fresh angle to keep them engaged and learning, because your team has seen it all when it comes to training.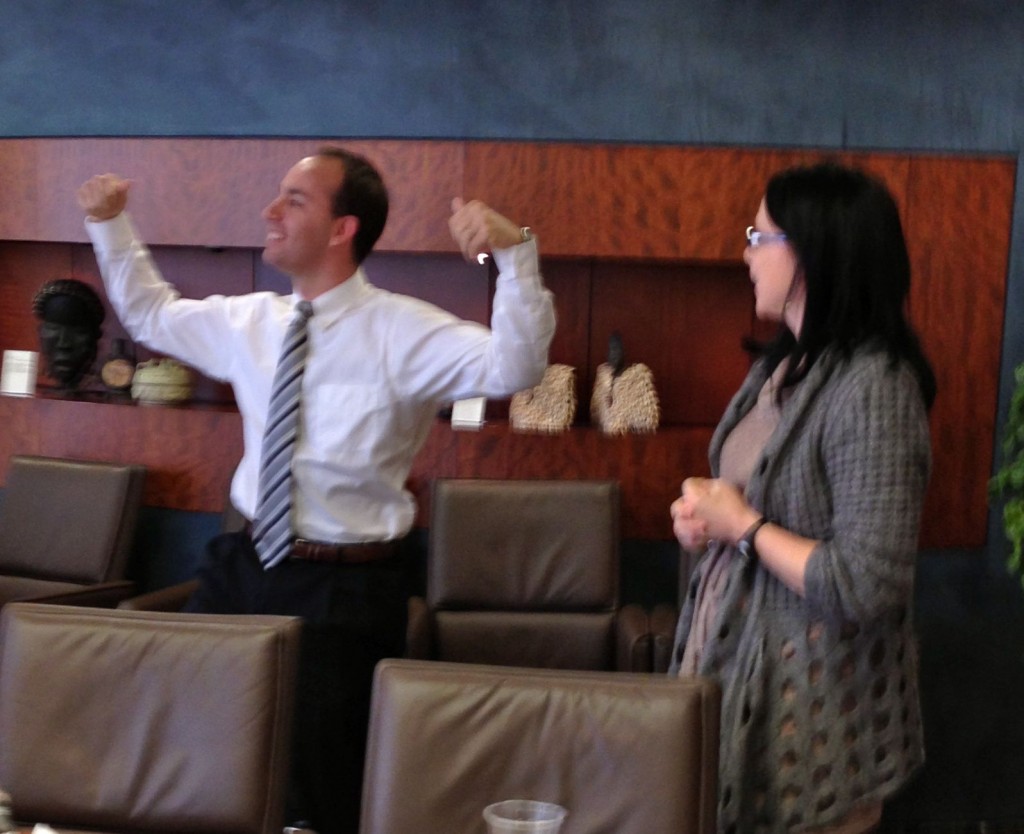 Why Improv for Business?
Using the "Yes, and…" approach of improv, your team practices open communication, thinking on their feet, teamwork, leadership and active listening… and more! Our improv for business activities break the mold of stagnant team building exercises so your employees can learn how to stay focused, in the present moment. These skills convey to all manors of business, from sales to management to communications. 

Colleges, business schools and Fortune 500 Corporations use improv training to hone the skills needed for today's fast-paced, always changing business environments. 
Our improvisational professionals provide a bolt of audience inspired improv to kick-start your meeting, retreat or training and propel your participants into the day with positive energy and a fresh way of looking at company problems, challenges, goals, and objectives. You are guaranteed to get your folks laughing and thinking across the board.
Based on our Experience… and Research
When improv is used correctly in the workplace is can greatly benefit employees':
Decision-making and leadership

Team development and trust

Ability to focus and concentrate

Adaptability

Communication skills
"When I originally told my husband that we were going he was not too thrilled. I was completely worried but hopeful that he would relax and enjoy himself. Well my prayers were answered because he had a ball and he actually participated. On our ride home he couldn't stop talking about how much he enjoyed himself and how we both were impressed as a whole."
MarriedNTheFamily Improv Workshop Participant

"Improv has made such a positive impact on every aspect of my life – too much to sufficiently relay in an afternoon email. I'm so happy in improv, and thankful to you for taking out the time to host this class. I will definitely be continuing to come to class, and am excited about becoming more and more involved in the improv community."
"The Chuckleheads rock!!! We had such a fun time! I had so much fun laughing with Scott! We haven't laughed like that in a long time (if ever!) You were marvelous! The troupe is great!"
"We thoroughly appreciated the way the group interacted with the audience without making anyone feel uncomfortable. I would definitely recommend the Chuckleheads/ Actors Crib, Inc. to anyone looking to provide some levity in their office or at one of their events."
Conference Services Manager - Law Firm


"There was singing, dancing, acting, falling, crying and every bit of it was just ridiculously funny. Scott and the cast were great, my daughter woke up talking about it so now she wants to become a Chucklehead!"

"Scott Pacitti is a man on a mission! His mission? Scott aims to spread the art of improv theater to the youth all over the North Carolina region. A diligent leader and effervescent personality, Scott brings a wide range of theatrical games and skill to the forefront. "
Middle School Drama Instructor
"Went to the Improv show tonight (for those who don't know it is like the TV show 'Whose Line is it Anyway?'). Love, love, loved it! Cannot wait to go back!"