Single Sessions For Children and Adults – Planet Improv, Inc.'s – Play. Imagine. Improvise. Create. Achieve. Program (PIICAP)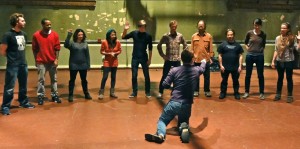 Planet Improv, Inc. (led by its leader and 15 year improvisational theatre veteran, Scott Pacitti) has offered single and multiple week play, imagination, improvisation, creativity classes and workshops since 2004 for all ages, children and adults.
What are just some of the potential benefits of play, imagination, improvisation, and creativity training for all ages ?
*Improve communication skills
*Improve speaking fluency
*Improve problem solving ability
*Break down barrier between mind and voice
*Increase mind's ability to form ideas
*Present ideas in a more coherent, salient manner
*Increase listening skills
*Increase concentration skills
*Help tune in to aspects of communication that you might not previously notice
*Better thinking on your feet
*Better recognizing of opportunities
*Helps you live in the moment
*Become more creative
*Increase you energy level
*Become more of a risk-taker
*Practice the art of acceptance (Yes And)
*Become a better storyteller
*Be a better team member
*Make new friends/colleagues
*Have fun
For more information contact Scott Pacitti at Planet Improv, Inc. at 704-301-1564 or scott@planetimprov.com.