Our Improv Team in Charlotte

Resident Troupe: The Chuckleheads
Planet Improv's resident improvisational theatre troupe, The Chuckleheads, is the premier improv team in Charlotte and has entertained the Carolinas since 2001 with their improvised comedy shows for private and corporate events. 
The Chuckleheads are flexible, hilarious, experienced and unique! They cater their shows to audiences of all ages, sizes and willingness to participate.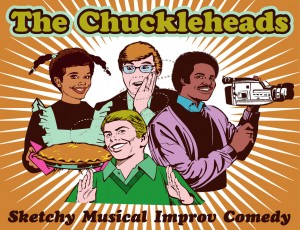 Offerings

Short-Form Improv: Whose Line Is It Anyway? games

Long-Form Improv: a theatrical experience similar to a play without a script

Musical Improvisation

Comedic Activities

Planet Improv President and Founder: Scott Pacitti
In establishing his improv team in Charlotte, Scott Pacitti has educated and entertained thousands of children and adults in the Carolinas.
Scott wears many hats!
As our president and founder he has also become a great influencer in the community and earned titles such as: educator, actor, director, facilitator, leader, collaborator and businessperson. Scott is passionate about educating, entertaining and effecting change through play, imagination, improvisation and creativity.
After transitioning to Charlotte, North Carolina in 2001, Scott decided to put his creative talents to use benefiting NC's educational, entertainment, theatrical, nonprofit, community, business and organizational establishments. In establishing his improv team in Charlotte, he has educated and entertained thousands of children and adults through improv.
Scott is always available those who wish to share their passions with him or inquire as to how Planet Improv can be of service.
Review

CONGRATULATIONS... for a job well done to Scott for his dedication to teaching improv for fun and personal development.

- Sonia P.

Planet Improv is a 501(c)(3) nonprofit with the mission statement "to educate, entertain and affect behavioral change though play, imagination, improvisation and creativity."
Planet Improv introduces the community to improv and helps any individual or group develop spontaneous skills for life by offering educational and entertainment products and services for children and adults. 
Our nonprofit status allows tax-deductible contributions to our educational and entertainment programs ensuring they are available to children and adults who may not be able to afford them. Please contact us if you have questions about Planet Improv or wish to make a charitable donation.
"When I originally told my husband that we were going he was not too thrilled. I was completely worried but hopeful that he would relax and enjoy himself. Well my prayers were answered because he had a ball and he actually participated. On our ride home he couldn't stop talking about how much he enjoyed himself and how we both were impressed as a whole."
MarriedNTheFamily Improv Workshop Participant

"Improv has made such a positive impact on every aspect of my life – too much to sufficiently relay in an afternoon email. I'm so happy in improv, and thankful to you for taking out the time to host this class. I will definitely be continuing to come to class, and am excited about becoming more and more involved in the improv community."
"The Chuckleheads rock!!! We had such a fun time! I had so much fun laughing with Scott! We haven't laughed like that in a long time (if ever!) You were marvelous! The troupe is great!"
"We thoroughly appreciated the way the group interacted with the audience without making anyone feel uncomfortable. I would definitely recommend the Chuckleheads/ Actors Crib, Inc. to anyone looking to provide some levity in their office or at one of their events."
Conference Services Manager - Law Firm


"There was singing, dancing, acting, falling, crying and every bit of it was just ridiculously funny. Scott and the cast were great, my daughter woke up talking about it so now she wants to become a Chucklehead!"

"Scott Pacitti is a man on a mission! His mission? Scott aims to spread the art of improv theater to the youth all over the North Carolina region. A diligent leader and effervescent personality, Scott brings a wide range of theatrical games and skill to the forefront. "
Middle School Drama Instructor
"Went to the Improv show tonight (for those who don't know it is like the TV show 'Whose Line is it Anyway?'). Love, love, loved it! Cannot wait to go back!"