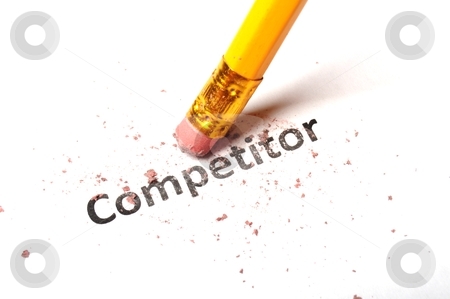 I still waste too much time and brainpower thinking about those who I assume are doing better than I am.
Don't get me wrong, I know that I am blessed in many, many ways.
That being said I can't help but, during my weak moments, ponder on those who have it better than me (personally and professionally.)
I am making progress, however.
When I find myself thinking like this, I snap out of it much more quickly than I used to.
But the fact that it still happens as frequently as it does is troublesome.
None of us can ever truly know the entirety of another person's life.  We see and notice the outside trappings, but are blissfully unaware of their "real story/stories."
Would I wish to be anyone other than who I am ?  Most definitely not.
I need to remember that much more often than I do. ~Scott
Courtesy of   www.thedailylove.com
Competition is an old model of living and doing business that is dying. It's old. It's extinct.
It's time for it to be DONE.
Why?
Because, we are growing, we are evolving and we are starting to become a global community that realizes that each of us has a special gift to give to the world.
Think about it. In an Infinitely abundant Uni-verse, how could there ever be not enough? The only reason is because WE are not thinking and acting in alignment with this truth.
We hoard. We compete. We make others lose so we can win.
We think it's a dog eat dog world. But it's not.
It's just been the world we've created until now.
But now, everything is changing. With SO much uncertainty in the way the world is going, we are forced to go within. We are forced to learn how to trust our own intuition. And we are being called to GIVE our unique gift to the world. This is our purpose. To get in touch with our gift and then give it in service to others. 
This is as imperative to our nature and survival as breathing or eating. And it's Uni-versal. It applies to each and every one of us. We have a gift. And this gift is a service to the world.
And when we live in service to others giving our gift – competition dissolves. Because there is only one of us and it is only US who can give our gift to the world the way that we do.
Take TDL for example. There are MILLIONS of blogs. And MILLIONS of personal growth folks.
But aren't any others like me. I'm not the next anyone, I'm the first and last Mastin Kipp. And TDL is my unique expression to the world. No one can copy me. So no matter how many other blogs or personal growth folks there are out there, no one can do it like me. And I can't do it like anyone else.
And everyone else in my space will speak to different people and niches. Because people need to hear this same message in a different way from different people. So there is no competition.
I used to get wrapped up in what I thought was competition in my space with other writers, bloggers and blogs. But I let it go and just focus on giving my gift. And that has made all the difference – because there is no competition in giving my gift – I'm the ONLY one who can do it!